---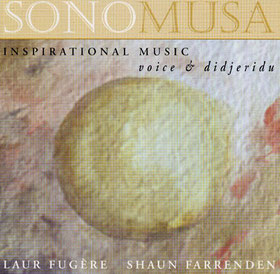 Inspirational Music
SONOMUSA
Laur Fugère (voice) & Shaun Farrenden (didjeridu)
This unique combination of haunting, vibrational vocals entwined with the evocative sounds of the didjeridu is effective for meditation, massage, yoga, chi-gong and other introspective activities... SONOMUSA lifts, soothes and inspires... 
Laur transmits sound through improvisation.  She is passionate about the transformative power of voice and the potential for the harmonizing of sounds.  Her voice finds its source in the strides of Sacred Art and vocal ritual, to facilitate the opening of evocative and transitory spaces.
The didjeridu is considered to be a sacred instrument in indigenous Australian culture, the world's oldest culture, and is used in shamanic ceremonies.  The instrument metamorphoses as a vessel, while the voice allows the soul to travel. 

Price:   $20 (plus mailing cost, if applicable)
Contact:  Laur at Laur@LaurFugere.com or 514-577-4377